Kazakhstan at a Glance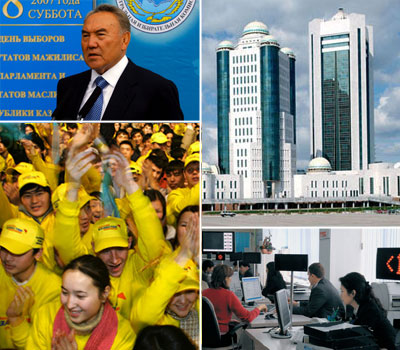 President: Mr Nursultan Nazarbayev (at the split of the USSR elected president December 1, 1991; as per new, amended Constitution elected to the first seven-year term on January 10, 1999; re-elected to the second seven-year term on December 4, 2005)


Prime Minister: Mr Karim Massimov (since January 2007)


Chairman of the Senate of the Parliament (upper chamber): Mr Kassym-Jomart Tokayev (elected January 2007)


Chairman of the Mazhilis of the Parliament (lower chamber): Mr Aslan Mussin (elected August, 2007)


State Secretary (social, inter-ethnic, cultural affairs; civic development, gender policy): Mr Kanat Saudabayev (since May 2007)


Foreign Minister: Mr Marat Tazhin (since January 2007)
Other members of the Government:
Deputy Prime Minister: Mr. Umirzak Shukeev
Deputy Prime Minister: Mr. Erbol Orynbayev
Minister of Internal Affairs: Mr. Baurzhan Mukhamedjanov
Minister of Economy and Budget Planning: Mr. Bakhyt Sultanov
Minister of Industry and Trade: Mr. Vladimir Shkolnik
Minister of Energy and Mineral Resources: Mr. Sauat Mynbayev
Minister of Finance: Mr. Bolat Zhamishev
Minister of Transportation and Communications: Mr. Serik Akhmetov
Minister of Environment: Mr. Nurlan Iskakov
Minister of Agriculture: Mr. Akylbek Kurishbayev
Minister of Culture and Information: Mr. Mukhtar Kul-Muhammed
Minister of Tourism and Sport: Mr. Temirkhan Dosmukhambetov
Minister of Labour and Social Protection: Mr. Berdibek Saparbayev
Minister of Justice: Mrs. Zagipa Baliyeva
Minister of Education and Science: Mrs Zhanseit Tyuymebayev
Minister of Healthcare: Mr.Anatoly Dernovoy
Minister of Defence: Mr. Daniyal Akhmetov
Minister of Emergency Situations: Mr. Vladimir Bozhko
Independence: December 16, 1991; Day of the Republic: October 25, 1990 (date on which Kazakhstan passed Sovereignty Declaration)
Location: South of Russia, Northwest of China, North of Kyrgyzstan, Uzbekistan and Turkmenistan and Northeast of Caspian Sea.
Total area: 1,687,443 sq miles (2,717,300 sq km)
Land area: 1,657,945 sq miles (2,669,800 sq km)
Comparative area:
Ninth largest in the world, equivalent to the size of Western Europe.

Four times the size of Texas.

Five times the size France.
Boundaries: Total 7,459 miles (12,012 km (without Caspian shoreline)
The Republic of Kazakhstan shares its longest borders with Russia, 4,251 miles (6,846 km) and China, 951 miles (1,533 km). It also borders 1,183 miles (1,894 km) on the Caspian Sea.
Major Cities: Astana (capital, moved from Almaty in December 1998); Almaty, Karaganda, Shymkent, Atyrau, Aktobe, Oskemen.
Population: 15.56 million
Ethnic and Social Diversity: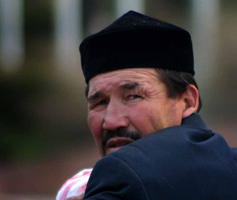 Kazakhstan's ethnic composition is the driving force behind much of the country's political and cultural life. The country's principal ethnic groups include Kazakh (58.9%), Russian (25.9%), Ukrainian (2.9%), Uzbek (2.8%), Uighur, Tatar and German (1.5% each), and other groups (4%). There are more than 100 other ethnic groups living in peace in Kazakhstan.
Two major religions in Kazakhstan are Islam and Christianity (57% and 40% of all believers, respectively) Most Muslims in Kazakhstan belong to the Sunni denomination of Islam, while most of Christians belong to the Russian Orthodox Church. The rest constitute other religions – there are more than 40 confessions in Kazakhstan which are organised in more than 3000 religious organisations. It is worth mentioning that although most people in Kazakhstan associate themselves with a certain religion, most of the population is not deeply religious.
Languages: Kazakh, spoken by over 52% of the population, is the state language. Russian, spoken almost by everyone, enjoys equal status under the Constitution and is a means of interethnic communication in Kazakhstan. Newspapers, TV/Radio programs, school instruction are done in 11 languages (Kazakh, Russian, Uzbek, German, Korean etc.)
Literacy: 100% of age 15 and over can read and write.

In 1997, Kazakhstan launched the long-term national strategy "Kazakhstan 2030. Prosperity, Security and Improvement of Welfare of the Citizens of Kazakhstan". The strategy identified seven national priorities for the period to the year 2030 which serve as a "road-map" for Kazakhstan's future growth.
National security. Ensure development of Kazakhstan as an independent sovereign state preserving its complete territorial integrity;
Safeguard and strengthen domestic political stability and national unity;
Economic growth based on an open market economy with high levels of foreign investments and internal savings. Achieve realistic and sustainable rates of economic growth;
Health, education and well-being of the citizens of Kazakhstan. Consistently improve living standards, health, education and opportunities of Kazakhstanis and improve the natural environment in the country;
Energy resources. Effectively utilize energy resources of Kazakhstan through rapid increases in extracting and exploring oil and gas with the aim of gaining revenues to engender stable economic growth and improve living standards;
Infrastructure and particularly transport and communications. Develop these key sectors to enhance national security, political stability and economic growth; and
Professional government. Establish an effective professional corps of civil servants and state-owned formations of Kazakhstan loyal to the cause they serve and capable of acting as representatives of people in achieving national priorities.
---